New York State History - Vendors, Services, and Products For Sale
This page is a growing list of supplies and services that can be used in studying and teaching New York history. To add a listing, submit a product sample and send information by mail to PO Box 2432, Empire State Plaza, Albany, New York 12220-0432. For more information, see the NYHN services page.
Featured Item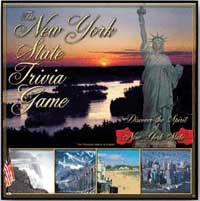 New York State Trivia Game - Fun and games from Canada-based GPP Enterprises, this new game is useful as a teaching tool. To read more about the game and how to buy it, <http://www.empirestatetrivia.com> or <http://www.newyorkstategifts.com>.
___________________________________________________________
Ambient Light Photography - photography with New York atmosphere. NY state & town historical sites, rural life, architecture, nature, & landscapes. Prints up to poster size & photo note cards available online. Searchable online stock image database for publishers and Webmasters.
American Magic Lantern Theater - America's only professional touring company re-creating Victorian magic-lantern shows.
Chatham Hill Games - American history games and educational products, operated in Chatham, NY.
Empire State Bed and Breakfast Association
Hartgen Archaelogical Associates - projects include the Dean Street excavation in Albany, NY.
HeritEDGE Historical Enterprises, Ltd. - offers expertise in history consulting, research, public speaking, idea generation and exhibition curation for businesses and institutions.
John W. Danforth Company - includes photos of current jobs, descriptions of completed jobs, contact info, demographics, and company history.
Joyce Gold History Tours - tours, books and slide shows of NYC.
Laurence Frommer Theater History and Tours - weekly free tours of the Broadway district thatís given on Fridays 12 noon -2 pm.
L.F. Tantillo - historical and marine painting.
Musee - online museums stores.
Music in the Mail - classical CDs, music reviews, articles on great musicians, audio history, CD audio samples. LPs, historic Broadway Playbills sold.
N.Y.C. Labor Map - proceeds from sales go toward funding production of a full-color, professionally designed New York State Labor History Map.
New York History Net Consulting - offers editorial assistance, educational services, and Internet support.
New York Literature - links about New York publications
New York State Gifts - contain items of both regional New York favorites and general NY gifts including New York favorite foods, New York gift baskets, and New York t-shirts.
Sally Roesch Wagner - author, lecturer, and historical performer.